Services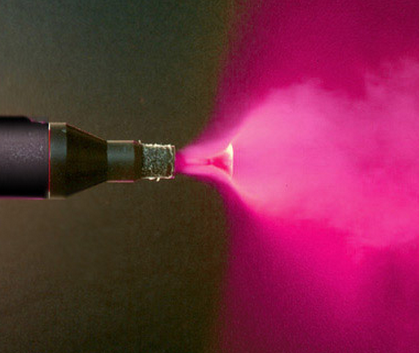 Powder Coating
Powder Coating is a method of applying a decorative and protective finish to a wide range of parts and materials. The powder coating process uses very fine dry particles of resin with the pigment color of your choice.
The resin powder is applied with a spray gun similar in concept to applying solvent based paint, however, powder coating uses an electrostatically charged technique in which the powders are charged as they move through the spray gun causing them to stick to the grounded part just like metal to a magnet. This allows the powder to adhere to the part through the next step: curing.
The curing process involves heating the coated parts to 400 degrees F for a predetermined amount of time. During this time the powders are melted and fused together to form a very strong and durable finish.
The parts are then allowed to cool and are ready for use immediately.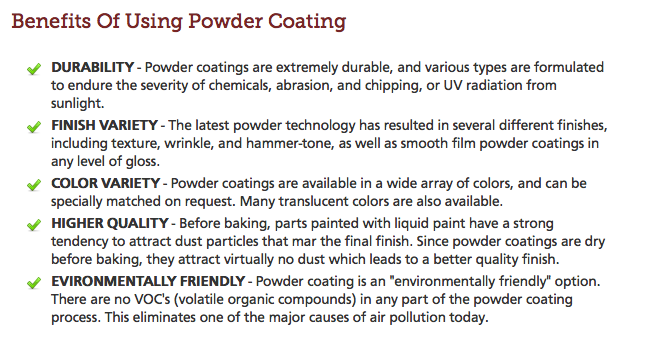 Metal Finishing
First-rate customer service is what set us apart from the rest.  We have systems in place that allow us to function as a large company while still offering the personalized care you get from a small business.
When you call Ace Powder Coating, you can get immediate access to the individuals who can make decisions and answer your questions.
We know that our customers need quick turnaround on their parts in today's world of just-in-time manufacturing.  Our production schedules are set on a shift-by-shift basis allowing us to be flexible enough to meet both regularly scheduled deliveries and emergency production runs.  Each order that comes into our facility is prioritized to ensure that it is in your hands when you need it.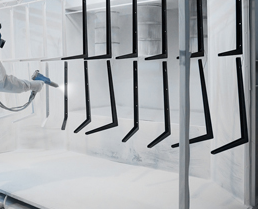 Plating
Our Metal Finishing offers an unbeatable selection of Nickel plating processing options:
Polished Nickel
Polished Chrome
Satin Nickel
Satin Chrome
Antique Bronze
Mirror Brass
Satin Brass
With all of the options we offer daily, we are able to give you the flexibility and quick turnaround you need.